CAMPUSES
QUICK LINKS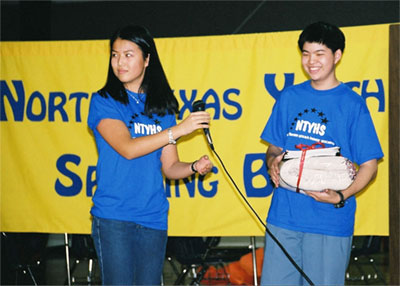 Mission Statement
"The objective of the organization is to strengthen the youth community and encourage the youth to work in order to better the society through personal growth and achievements in diligence, responsibility, and leadership." - NTYHS
Sponsored by the Sun Ray Chinese School, the Youth Organization and the North Texas Youth Honors Society are at the forefront of student leadership. The objective of these organizations are to organize various community service projects, coordinate student activities and competitions at Sun Ray Chinese School, and to serve as the student council among Sun Ray. Within this organization, we also strive to increase awareness of the Chinese culture while increasing the awareness of our own culture. Members participating in the YO Leadership Program gain increased responsibilities by collaborating with community partners. In addition, we hope to allow development of skills and talents of the youth members involved in this organization.
Members of the Youth Organization are given the opportunity to take their leadership skills into action. Serving as project leaders and event committee chairs, their experience reflects their talents to college admission boards. Having demonstrated their extracurricular leadership abilities, students from the Youth Organization have been accepted to various schools including: Harvard, Yale, John Hopkins, Stanford, Emory, Southern Methodist University, Indiana University, University of Texas, and Baylor University.
In addition, preparing our students with real world work experiences offers them an an insight to the inner operations of businesses and goverenment institutinos. The ever growing competitive market neccessities a broad background experience. The Sun Ray Youth Organization offers a head start for aspiring students with its summer internship programs. These experiences help students stand out in the college admissions process as well as prospective internships once in college. Members who have demonstrated stellar academic and leadership abilities have been placed at various offices including: Former Congressional Majority Leader Dick Armey, Congressman Pete Sessions, Congresswomen Eddie Bernice Johnson, District Judge Lisa Fox, Crafton Company, and Purple Signal Radio Station.
Events

Chinese Youth Retreat for Chinese Leadership Excellence



Youth Leadership Winter Ski Camp



North Texas English Speech Tournament



North Texas Youth Music Competition


Reasons to become involved ...

Project leadership in coordinating community events



Letters of recommendations



Sun Ray Seniors Scholarship



Summer high school internships


Youth Organization Officers 2003-2004
President
Grace Liu
Vice President
Daniel Liu
Secretary
Winfred Ko
CYRCLE Program Director
Steven Tsai
CYRCLE Head Counselor
Diana Liu
Spelling Bee Chair
Brian Young
Speech Tournament Chair
Cynthia Liu
Fundraising Chair
Jesse Kao
Activities Chair
Alvin Cheung
Anthony Cheung
Banquet Chair
Daniel Liu
Vice Banquet Chair
Sara Shih
Youth Organization (Arlington) Officers 2003-2004
| | | |
| --- | --- | --- |
| President | | Daphne Hong |
| Vice President | | Kevin Chiu |
| Secretary | | Elsa Lee |
| Treasurer | | Vini Sayasana |
| Historian | | Willie Chen |

SCHOOL STARTS AUG 25 at the Carrollton Campus. Click on the registrar section for more information on enrollment.
:: Click to check enrollment.
ANNOUNCEMENT:
:: Click here for details.
UPDATED Summer School pictures of students, classes, and field trips now available in the Photo Gallery.
:: Click here to see.


03/05/04 Young Asians Face ...
When his two children were in middle school, Philip Shinoda of Dallas gave them a blunt warning: "You're not competing against Bubba and Peggy Sue."
:: Click here to read article.
12/31/03 Chinese Acrobats ...
If you've ever seen the Chinese acrobats at work, you've probably wondered how they can accomplish such amazing feats. According to one fan, years of training make it all look easy.
:: Click here to read article.